Apartment Owners Association Registration in Bangalore
Apartment Owners Association Registration in Bangalore comes under Karnataka Societies Registration Act 1960 (KSRA). By law, the KAOA is the provision. But the confusion arises because there is no authority specified for it to register the association through the Registrar of Cooperative Societies is regarded as the competent authority in this regard. However, note that you have the provision to tackle issues if you go by the rules of the KAOA. When it comes to the KSRA, the powers are well laid out and therefore, it paves way for such confusion. At this juncture, it is important to mention that while the KAOA deals with apartment complexes, the KSRA's jurisdiction involves- literary, scientific, charitable and other organizations. As of now, those registering their apartments along the KSRA guidelines, generally put in a 'welfare' motive in the clause.
The homeowner under the KAOA is the absolute owner with a clear title of the apartment and its proportional undivided share (UDS). It is governed by the Transfer of Property Act,1882.
You Should To Know about Karnataka Apartment Ownership Act (KAOA) of 1972.
Before the property can be legally handed over to the owners, the builder has to register the Society within four months of sale of 60 per cent of the flats.
Minimum seven or more members who must be above 18 years.
Memorandum of association with name and objects of association, details of members of governing body with name, address and occupation.
By-laws (rules and regulations) of the association.
Fee for registration
Ensure that builder has obtained Occupancy Certificate for the apartment. Occupancy Certificate evidences the completion of the building as per the approved plan and assures its compliance to local laws. Here are all the documents for legal handover from the builder.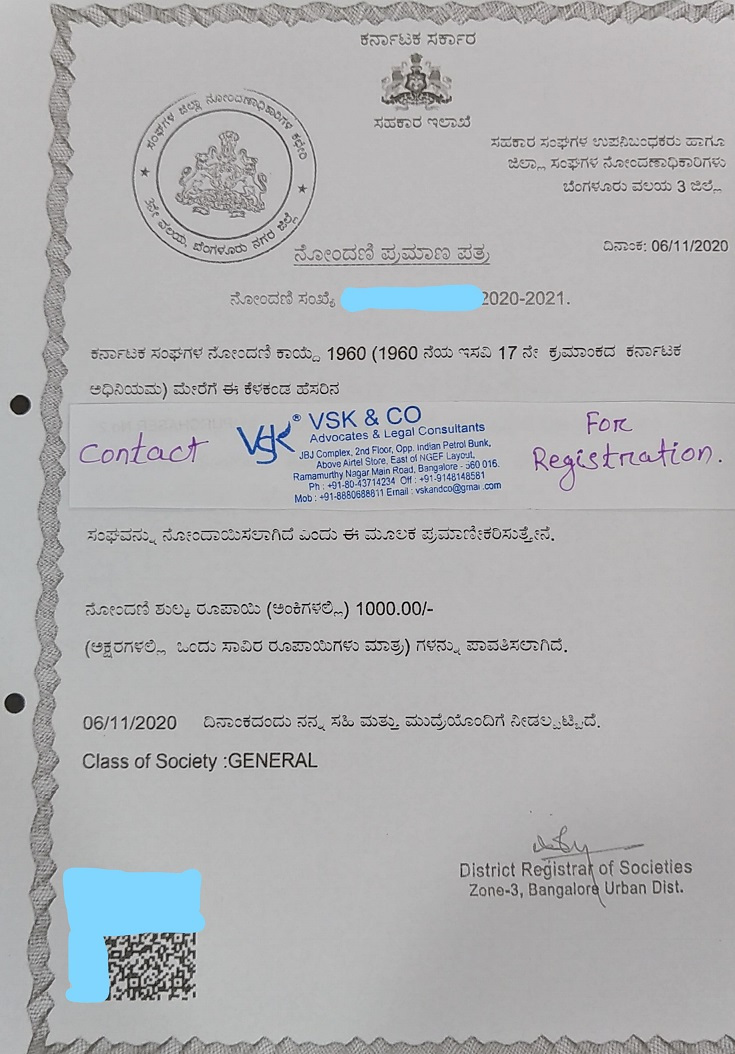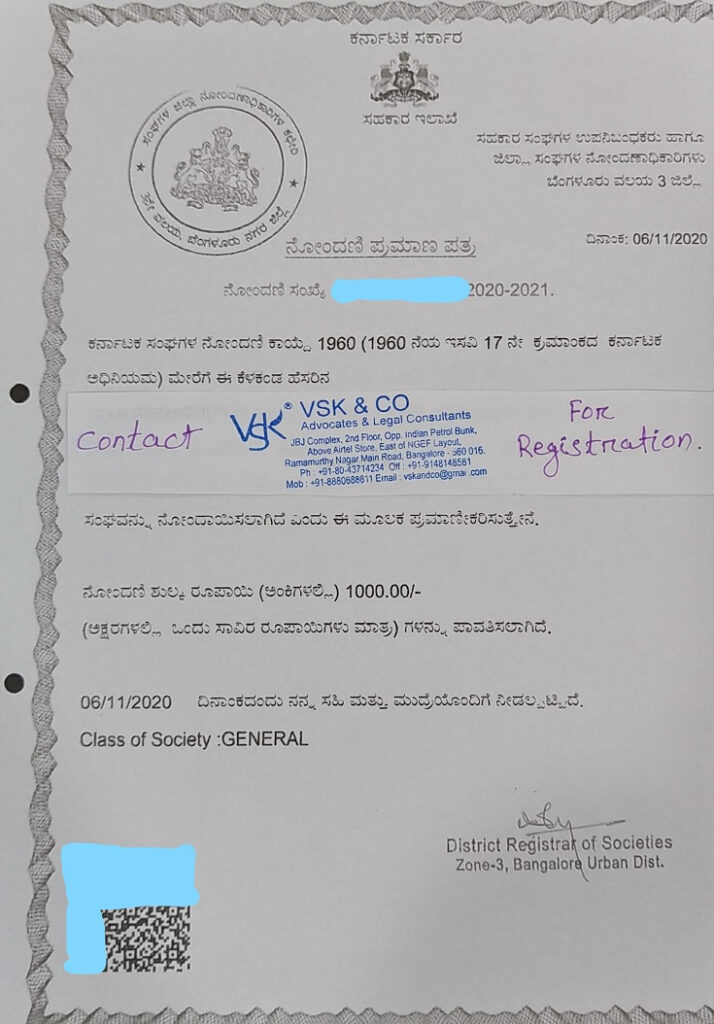 Before Going to Apartment Owners Association Registration in Bangalore, The Members Should be ready with documents required to submit for further procedure.
1. Occupancy Certificate
2. Deed of Declaration under 1972 Act.
3. NOC – Airports Authority of India
4. NOC- Ministry of Environment & Forests
5. Karnataka State Pollution Control Board – Consent
6. NOC from BDA for Construction
7. NOC – BSNL
8. NOC – BESCOM
9. BESCOM Approvals for Transformer & LT Panels.
10. BESCOM Sanction letter and Deposit Receipts
11. NOC- Karnataka Fire & Emergency Services & Conditional
12. Gas Approvals from Oil Corporations & Allotment Order
13. BDA Approved Plans & Modified Plans
14. Lift Approvals from Deputy Chief Electrical Inspector
15. BWSSB Sanction letter/Payment Receipt copy
16. List of Club House Movable Asset
17. Hand over of DG, Transformer & Fire Pump Details
18. Sump & Tank Capacity Details
19. Hand over -STP Pump Details
20. Hand Over – Pump Room Asset Details
21. Hand Over – Swimming Pool Room wih List of Assets
22. Hand Over – Sewage Treatment Plant ………. KLD
23. Hand Over – Play Area Assets
24. Hand Over – Basement Fire Hydrant Equipment Details
25. Hand Over – All Block Yard Hydrant Equipment Details
26. Hand Over – Fire Hydrant Details Block wise
27. Hand Over – Fire Extinguisher Details
28. Hand Over – Security Room Main Gate
29. Hand Over – Gas Bank Equipment Details
30. Hand Over – Gym Room Equipment
31. Hand Over – Club house Key List Details
32. Hand Over – Common Area Key list Details
33. Hand Over – List of Manuals & Service Report Files
34. Hand Over – Fire Pump Details
35. Hand Over – List of Architectural Working Drawing
36. Statement of Maintenance Deposit or Corpus Fund
37. Renewals – Annexure – E
38. Address Book of all the Flat Owners.
39. RR.No. Of all the Flats
40. Title Deed
Apartment Owners Association Registration in Bangalore
The Karnataka Apartment Ownership Act of 1972 (KAOA), which came into force in 1975, encourages homeowners to form associations on democratic grounds. These associations ensure a smooth functioning within the housing societies and apartment complexes. Generally, such associations are registered by the developers. However, in case that doesn't happen, the apartment residents can take a lead and get it registered with the help of a lawyer.
If You are Planning for Register an Association OR Looking for Registration of your Association?
Best place to Consult: Book Appointment
Click to See More