Company Registration in Bangalore
Register your company with Best Corporate Lawyers
VSK & CO has a very Explore and Experienced Team (10+ Years) in one person company registration, Firm Registration, Business Registration, Start-up Registration and Company registrations. Our firm have a dedicated business registration consultants Team to Process Registrations in a Hassle free method.
A business enterprise can be owned and organized in several forms. Each form of organization has its own merits and demerits. The ultimate choice of the form of business depends upon the balancing of the advantages and disadvantages of the various forms of business. The right choice of the form of the business is very crucial because it determines the power, control, risk and responsibility of the entrepreneur as well as the division of profits and losses. Being a long term commitment, the choice of the form of business should be made after considerable thought and deliberation.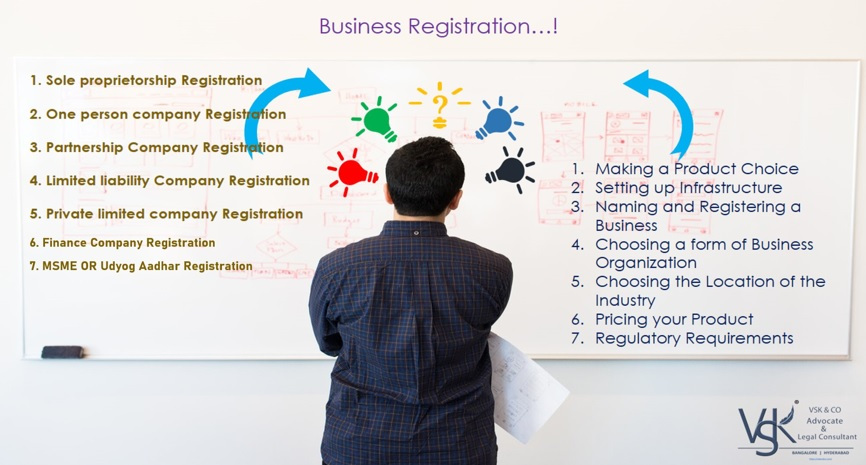 In business registration process, you should have pre knowledge about your business / Start-up influence factors like:
Having a Business Plan:
Making a Product Choice
Setting up Infrastructure
Naming and Registering a Business
Choosing a form of Business Organization
Choosing the Location of the Industry
Pricing your Product
Regulatory Requirements
Financing a Startup Business
Sourcing Process, Raw Materials, Machinery and Equipment's
 Hiring Human Resource
Before you decide to register, better to get an Advice from (Experts) business registration lawyers.
Need a Business Registration Advice? Want to have a personal meeting with business registration consultants?
Our Firm have a Trust worthy results since we've started, which leaded to adopt us as their Business Lawyers.
Our Dedicated Team & Consultants Vast Exposure on Business Proceeding Areas
Registration / Application
Private Limited Company Registration
Public Limited Company Registration
Limited Liability Partnership Registration
Sole Proprietorship Registration
Partnership
SSI MSME Registration
ONE PERSON COMPANY (OPC)
Conversion into LLP
Non Profit Organization
Indian Subsidiary
Trademark Registration
Trademark Assignment
IEC Registration (Import & Export Code)
GST Registration
EPF Registration
ESI Registration
Indian Subsidiary Registration
Nidhi Company
Producer Company
Del Credere Agreement
Non-Disclosure Agreement
DIR 3 e KYC
Hire purchase agreements
Sole Selling Agreement
Underwriting Agreement
Mortgage Deed
Deed of Wakf-Alal-Aulad
Specific Power of Attorney
Contract Manufacturing Agreement
Web Development Agreement
Foreign Collaboration Agreement
Joint Venture Agreement
Franchise Agreement
Agreement Appointing A Common Arbitrator
Agreement to Sell Business
Vendor's Agreement
Shareholders Agreement
Exclusive Distributorship Agreement
Lease deed
E-commerce Business Registration
LLP Name Approval
Logo Design
Corporate Advisory Services
Udyog Aadhaar Registration
Company Registration In India
Start up recognition
DSC Application
DIN Application
PAN Application
TAN Application
Copyright Application
Patent Application
TRADEMARK SHOW CAUSE HEARING
E-Form ACTIVE (Form-22A)
E-Form Commencement of business certificate (form-20a)
Dormant Company Application
Legal Proceedings / Modifications

Conversion from Private Limited Company to Limited Liability Partnership (LLP)
Conversion from Partnership to LLP
Conversion from LLP to Private Limited
Conversion from Partnership to Private Limited
Conversion from Private Limited Company to Public Limited
Conversion from Public Limited to Private Limited Company
Conversion from Proprietorship to Private Limited
Conversion from Proprietorship to LLP
Conversion from Proprietorship to Partnership
Conversion from Proprietorship to OPC
Conversion from OPC to Private Limited Company
Add a director/partner
Removal/resignation of director/partner
Appointment of Auditors
Company Name change
Trademark Objections
Trademark Withdrawal
Trademark Rectification
Trademark Opposition
Trademark renewal
IEC modification
Change in Directorship
Change in Auditor
Increase in Authorized Capital
Change in LLP Agreement
Company name Change
Change in DIN
Share Transfer & Transmission
Company Annual Filing
LLP Annual Filing
Strike Off Company
Business Plan Preparation (Project Report)
TDS Returns revision
TDS Return
CMA Report Preparation
Income Tax Returns
LLP Name Change
Change of registered office address
MOA/AOA amendment
MOA/AOA printing
Creation of charge
Modification of Charge
Removal of charge
Strike Off LLP
Dissolution of Firm
Strike off OPC
PF returns
ESI returns
Book-Keeping & Accounting
Payroll Setup & Processing
GST Return
GST LUT (Letter of undertaking) filing
GST Cancellation
GST modification
OPC Annual Filing
Search Report
Statutory Audit
Tax Audit
MAT Audit
Add/Remove a Partner
Revision of ITR
TM-M and Draft reply to notice
Name Approval Services
GST Refund Application
SSI/MSME Modification
Beneficial Ownership Procedure (Customized)
Retainer ship (Customized)
Undertaking in Form 15CA and Certification in Form 15CB
Private Limited as Normal Subsidiary
Class II DSC Application Express Service
Allotment of Shares
Trademark Modification
Surrender of DIN
Change in Registered Office LLP Essential
File Form DPT 3 (OTR)
If You Are Interested OR Required any Of Above Legal Services…
Feel Free to Consult Us…
You are always Welcome.
Our Motto is Build & Grow Together. And want to be Part of Societal Development.