Private Limited Company Registration
Private Limited Company Registration is one of the most popular corporate legal entities in the world. Private Limited Company (Pvt. Ltd.) is incorporated under the Companies Act of 2013 and governed by the Ministry of Corporate Affairs (MCA). It is a registered corporate structure, that provides business a separate legal identity from its owners. In this form of company, directors have limited liability to shareholders, perpetual succession, easy to manage compliance, easy equity funding, and transferable ownership i.e. sale or purchase of the company.
The most ideal form of Company for Start-ups to start a business and apply for funding from Investors. With a Private Limited Company, you can easily chase Bankers, Financial Institutions, and Private Equity Investors for the expansion of your business. Price to service, your leading legal consultant, offers quick Company Registration service in India at nominal pricing. Here you'll find how you'll register your company.
We lookout of all legal formalities and fulfil the compliances, as defined by the Ministry of Corporate Affairs. Post-approval of the corporate registration process, you receive a Certificate of Incorporation (CoI), along with side PAN and TAN. Now, you'll open a current checking account and start your business operations.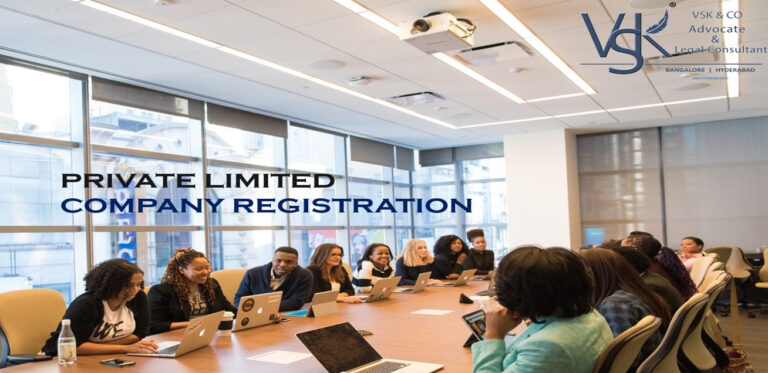 Documents Required for Private Limited Company Registration
Pan Card
ID Proof
Directors Address Proof
Business Address proof
Passport Size Photo
No Objection Certificate(NOC)
Registered Office Rent Agreement
Occupation, Contact & Email Details
   (Note*: – In Case of NRI OR Foreign National, Documents of Director(s) must be notarized or Apostilled.)
Advantages of Private Limited Company
Easy to Form
Limited Liability
Easy to expand
Share Valuation
Enhanced Brand value
Management and Ownership Separation
Tax Advantages
International Exposure
Funds Allocation
Private Limited Company Registering Process
Registering your company as a private limited company is difficult as the procedure is complicated and involves many compliances. Do not fear as our experts can help you in every step of the private limited company registration. Instead of reading through the entire registration process, you can avail our expert service.
Step 1: Obtain Digital Signature Certificate (DSC)*
Step 2: Obtain DIN*
Step 3: Name Availability
Step 4: MOA and AOA
Step 5: Form SPICE INC-32
Step 6: PAN and TAN Application
1: Obtain DSC (Digital Signature) Digital signatures are required to file the forms for company formation. The registration process is online and therefore the forms require a digital signature. DSC is mandatory for all subscribers and witnesses within the memorandum and articles of association.
2: Apply for DIN (Director Identification Number) DIN is a number for a director. it's to be obtained by anyone who wants to be a director during a company. One DIN is enough to be a director in any number of companies.
3: Name Approval:
Option 1: Incorporating a corporation via RUN (Reserve Unique Name) form
Option 2: you'll apply for the proposed name through SPICe (INC-32) but just one name is often applied to the present form.
4: Funds Allocation e-MoA (INC-33) and e-AoA (INC-34) e-MoA refers to an electronic Memorandum of Association and eAoA is electronic Articles of Association. These forms are introduced to simplify the method of company registration in India.
5: Form SPICe (INC-32) Ministry of Company Affairs has introduced Form SPICe (INC-32). it's a simplified preform for incorporating a corporation electronically.
6: PAN and TAN Application Through this single form SPICe, SPICe form. All you've got to try to to is download it, affix digital signature and every one the small print within the form are duly filled in alongside the specified documents, MCA will approve the registration and a CIN (Corporate Identity Number) are going to be allocated.* For Name availability under RUN Web service, there is no prior requirement to obtain DSC and DIN. It can be done with account login on MCA portal.
The whole process including approval of DIN, Name, and Incorporation takes around 7 working days. However, now-a-days registering a Company has become a fast process as all documents are dragged in a single application form with MCA. It is a big step towards e- governance and for businesses who are looking for expansion of operations.
It is better to Connect with Best Corporate Lawyer .
Click to Book Appointment For Hassle free Registration process.