What is Trademark search?
Trademark search consults with any action taken for the reason of figuring out whether or not and/or a trademark is utilized in commerce. Trademark searches may be slender in scope or can consist of outcomes from each avenue for trademark safety for each mark is remotely much like the mark this is the concern of the search. A suitable looking method will take into account the character of the mark, the character of the goods/offerings the mark covers, the timeline for bringing the mark to commerce, and the applicant's allocation of resources.
No Trademark Registration Without Trademark Search?
Yes, One cannot jump on to register trademark without performing any trademark search. You may assume, registering a trademark would provide you with all rights, and are on set to venture your business. But you are wrong, you cannot register a trademark without performing trademark search. A thorough trademark search is necessary to avoid future implications. What implications is it? It's your trademark being opposed by a third party; you being sued to infringe one's trademark even without any ill intention. You may also be liable to pay compensation to the real proprietor, for the loss caused. Hence, robust trademark search is necessary for you to register your trademark.
WHY IS TRADEMARK SEARCH IS REQUIRED?
There is a rapid expansion for the use of trademarks across the country. Hence, giving people the liberty to use well known trademark to expand their business without any awareness on their side.
Trademark search gives you an elaborate information. This is about the existence of a similar trademark which you intend to register.
Through Trademark search, you avoid using names which are phonetically alike to your trademark.
Trademark search provides you with a list of prohibited marks which are to be avoided by you.
Through trademark search, you may come across well-known trademarks which seems to be similar to your trademark.
If your trademark consists of a logo or device, you may come across a similar logo or device through trademark search.
Trademark Search Procedure
The first step of trademark search is selecting the right class. The Trademark Ministry has classified different goods and services into 45 classes, Choose the right class in the given list of IPR Portal's classification of goods and service page. In search box enter the product or service, then you'll get sresult of related classes, in those you've to select the very suitable class.
Second step is get in to the Trademark Portal, select Wordmark from list, in frequent row you will select Contains and beside that box write the brand name and search in a very deep mode / specific, Eg: Tata Motors, then first search Tata and then Motors then only it gives you accurate results, in the Class box mention class number and searchfor the result. Then, based on your search it will show you the existed names list, if there is no similar name or brand it will show you empty result page.
It's important to conform the trademark name phonetically because it may be that there are no alike trademark names but there are brand names which sound alike. The ministry won't approve the trademark application if there's a phonetically analogous brand name or trademark name.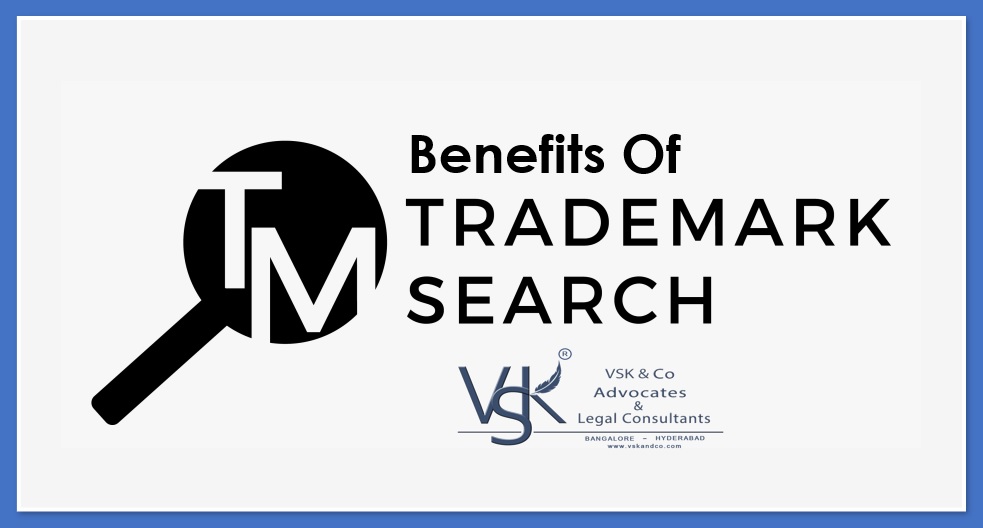 The Benefits You Receive by doing Trademark Search
Trademark search is a valuable tool which you should comply with before registration of trademark. It covers essential benefits which are listed below:
1. Avoids weak trademark.
Trademark search, helps you to avoid the usage of a weak trademark. For strong protection, you would require additional costs to achieve the desired level of protection.
2. Impact on the Goodwill.
If you have registered a trademark without performing search, there shall arise a situation when you have to drop it. This is when another proprietor of the trademark alleges that you have infringed their trademark.
3. Provides a future defense.
An expert opinion on trademark search protects you from future issues. That is, claims which are made in bad faith and willful infringement against you for the usage of a similar trademark.
4. Minimizes Trademark Refusal and Opposition.
A thorough trademark search, broadens the analysis and assists one in trademark application. This minimizes the chances of refusals and oppositions by any party claiming to have a right on the trademark.
If You are Looking for Trademark Search, We Got You Covered with best Trademark Consultants to perform Trademark Search
India's growing expansion has called for emergence of more startups, with great probabilities for infringement of various Trademarks. Making it more mandatory for you to expand your trademark search. We at VSK & Co Advocates & Legal Consultants, in Bangalore and Hyderabad got you covered. We are here to perform a thorough trademark search, for the trademark you wish to be the proprietor of. Thereby, helping you and your startup to stand out of the crowd. From search, registration, keeping up to date about your trademark application to the end process of it including trademark prosecution. You are always welcome and we are here to assist you through our responsible and attentive team, giving you hassle free solutions.
Consult With Trademark Search Experts to Get Best Results