Why Register a Trademark?
Trademark Registration, On an onset to become an Entrepreneur by commencing your own business? How are you planning to go about it? I've heard you, Yes! I got what you are thinking of, its Registration of Trademark. Registering a trademark to commence your business is essential step and provides you with great benefits. Trademark registration is a way of protecting your trademark from any infringement by a Competitor. Trademark Registration gives you the right to expand your business without any restrictions. Making it easier for people to distinguish your brand by the quality of product/service provided by you.
WHO CAN APPLY FOR TRADEMARK REGISTRATION?
Following are the ones who are eligible for trademark registration.
An Individual.
Joint owners.
3. Proprietorship Firm.
4. Partnership Firm.
5. Limited Liability Partnership.
6. Indian Company.
7. Foreign Company.
8. Trust or Society.
WHY DOES YOUR BUSINESS OR START UP NEED A TRADEMARK REGISTRATION?
Trademark Registration is necessary for you and your start up. This gives you a variety of benefits and protection, which are mentioned below.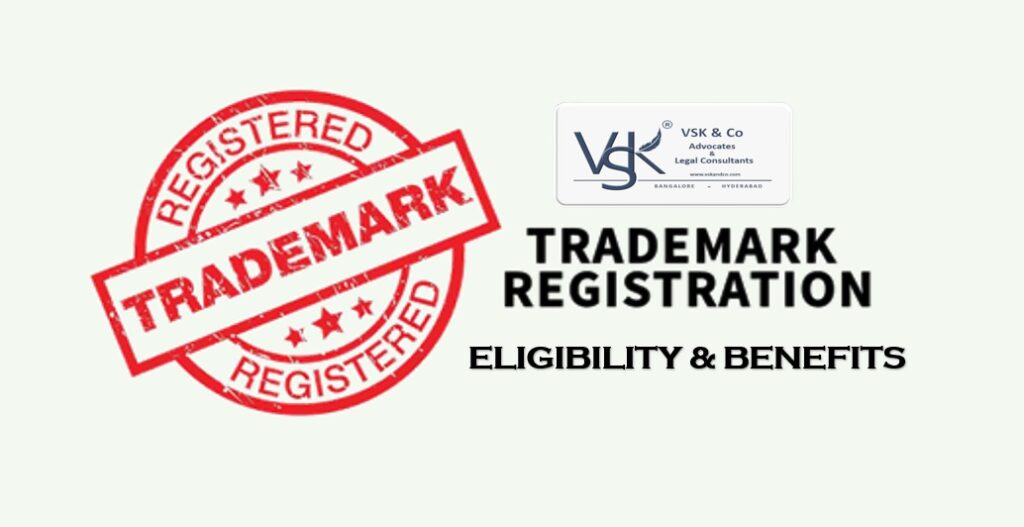 9 Benefits of Registering Your Trademark
You Have Full Control Over Your Brand
Reduce the Likelihood of Your Brand Being Infringed
Avoid Unnecessary Litigation and Costs
Develops Consumer Trust in Your Product or Service
Exclusive Rights
Registration of trademark gives you sole exclusive right to use the trademark. Being the owner, you are given exclusive rights to expand the products which you provide. This exclusive right given to you cannot be misused by any party
2. Building truth-worthiness of customers and Goodwill
Trademark and your business go hand in hand. The quality of products/services provided is often associated with the Trademark. Before public, a registered trademark is more trustworthy for the high-quality products or services provided. Thereby, establishing a goodwill to your brand
3. Recognition of products and services provided
Your costumers, find it easier to differentiate between the products/services provided by you with another competitors. The logo makes it more effective for you to communicate your vision, quality, unique characteristic of your products/services.
4. Valuable Asset is created
Creation of an intangible asset exist due to Trademark Registration. Which means an intellectual property for an organization. The Registered Trademark, can be sold, assigned, franchised or commercially contracted.
5. Low-Cost Protection for 10 years.
Registration of trademark is cost effective. Along with its maintenance cost and renewal cost which shall be paid after 10 years of registration. The advancement of technology has made everything easier being a less burden on your pocket. Hence, being an entrepreneur, you do not have to invest lump money for a uniqueness in your trademark.
6. Use of @ symbol
Once trademark registration is done, you are given the right to use the @ symbol. You have the authority to expand your business and showcase that your trademark is registered.
7. Onset for Global Trademark Registration
Expansion of your trademark in other countries, outside India gets easier. Only, when you have registered your trademark in India. For Global expansion, registration of trademark in India is a good base for you. As of the Goodwill, you have established also plays a role in it.
8. Attracts Human Resources.
Youngsters look forward to join an organization which has a goodwill attached to it. Not only youngsters but also citizens of all ages get attracted to your brand. Making it cost effective to hire and look for candidates for your organization in future.9.
9. Protection from Trademark Infringement.
Registered Trademark provides you with the right to sue the one who infringes your trademark. Especially, you have a first hand on the infringer by suing them for their actions.
Why VSK & Co for Trademark Registration?
DON'T WORRY WE GOT YOU COVERED!
India's growing expansion has called for emergence of more startups, with great probabilities for infringement of various Trademarks. Making it more mandatory for you to register your trademark. We at VSK & Co Advocates in Bangalore and Hyderabad got you covered. We give you advises on how to use a unique trademark for an easier registration process. Thereby, helping you and your business or startup to stand out of the crowd. From trademark application, trademark registration, keeping up to date about your trademark application, to the end process of it including trademark prosecution. You are always welcome and we are here to assist you through our responsible and attentive team, giving you hassle free solutions. For any queries and help consult with our IPR consultants.
Reach our Trademark Consultant to Register your Trademark in hassle-free way