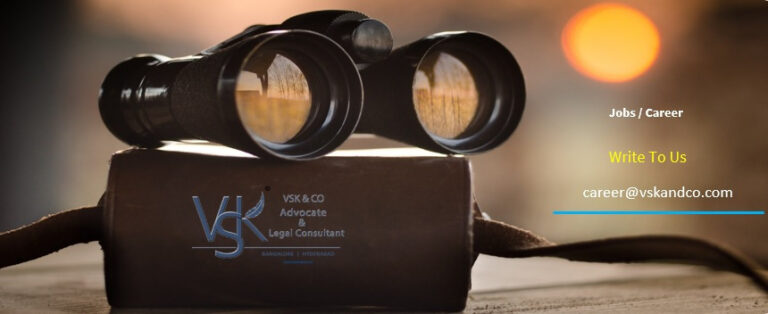 —  Urgently Hiring Lawyers For Law firm with 10 Years of Experience in Ramamurthy Nagar Bangalore —
As growing vast, VSK & Co Law Firm looking for an immediate requirement of energetic advocates to add on to our National facing firm.
The right candidate who has principles such as honesty and hard work along with the ability to work autonomously asking for assistance are required.
No of Positions = 5      *** Location: Ramamurthy Nagar – Bangalore.
Preferred Requirements
*Lawyer with Min. 10 Years Exp. Is Must.
*Good Command in English Kannada Any other language is added advantage.
*Good Drafting knowledge required.
*Must have handled cases in Trail Courts & High Court Independently.
*Lawyers (Male/Female) Living in and Around Ramamurthy Nagar are Preferred.
Skills Experience
Lawyer with Law firm experience is welcome
Strong interpersonal skills and ability to interact with all levels of clients and management.
Ability to handle multiple matters independently
The practitioner must be able to handle any of the legal matters relating to Property law, RERA, Divorce, Family Law, Civil Law, Criminal Law, Corporate Law and other aspects of Legal areas.
Court Handling Experience.
Should be hardworking, sincere, and committed to the company and should have passion towards the legal profession.
Should be updated with latest position of law and always show inclination for learning.
Demonstrate absolute commitment to business integrity and ethical conduct.
If your profile matches the above requirement and if you are interested in the above opening,
kindly email your resume at the earliest attachment to (without changing the subject line)
with Subject: Name, Profile for Legal Practice with Years of Experience.
Example: Subject: Name, Profile for Legal Practice | 10 years of Experience | Property Law / Family Law / Civil Law / Criminal Law….
Thank you
VSK & Co Advocates & Legal Consultants