Corporate Lawyers In Bangalore Hyderabad
Meet Best Corporate Lawyers and Advocates
Consult Corporate Law Experts For Business, Company Registration, Corporate Disputes and other aspects of Corporate Legal Services.
Corporate Lawyers are involved in conducting due diligence and overseeing deals that involve a company to merge with another company. Clients are assisted in creating a framework for how a company should be directed and controlled. Corporate Lawyers advise their clients on security law compliance aimed at preventing fraud, insider training and market manipulation as well as promoting transparency within the publicly-traded companies.
Corporate Law regulates how corporations are formed and operated, being in close relation to the practice of contract and commercial law. The Companies Act, 1956, has since provided the legal framework for corporate entities in India. Best Corporate Lawyers in Bangalore mitigate the risks a company is facing or may face in the near future by reviewing, negotiating and finalizing commercial contracts to protect the interest of clients and facilitate their business.
Our Wide Range Of Services In Corporate Law Covers Both Filing And Processed By Corporate Law Experts
Corporate Lawyers alongside looks into the various below listed factors-
Drafting Contracts and agreements.
Providing General Legal Council.
Shares and Assets to be sold.
Employment law issues are handled.
PoSH matters are handled.
Contracts which are drafted by Corporate Lawyers in Bangalore and Corporate Lawyers in Hyderabad are-
Co-Founder's Agreement.
Founder's Agreement.
Memorandum of Association.
Drafting terms and conditions for website.
Drafting cookie policies for website.
Articles of Association.
Partnership Agreement.
Partnership Deed.
Limited Liability Partnership Agreement.
Share Subscription Agreement.
Business Transfer Agreement.
Asset Purchase Agreement.
Employment Agreement.
Deed of Trust.
Joint Venture Agreement.
IPR Agreements.
Commercial Agreements.
Corporate Lawyers alongside also helps one in registering company covering ranges of-
One person company registration.
Sole proprietorship registration.
Partnership company registration.
Limited Liability company registration.
Private limited company registration.
Finance company registration.
MSME/Udyog Aadhar Registration.
One-Person Company Registration
One-Person Company means that one individual who could also be a resident or NRI will incorporate his/her business that has the features of a company and therefore the advantages of a sole ownership.
Sole Proprietorship Registration
The Sole Proprietary is a popular business form due to its simplicity, easy setup, and nominal value. A sole proprietor need only register his or her name and secure native licenses, and the sole businessman is ready for business.
Partnership Company Registration
A partnership is a kind of business where a proper agreement between two or more people is made who conform to be the co-owners, distribute responsibilities for running an organization and share the income or losses that the business produces.
Limited Liability Company Registration
A LLP partnership is a kind of business where a proper agreement between two or more people is made who conform to be the co-owners, distribute responsibilities for running an organization and share the income or losses that the business produces.
Private Limited Company Registration
A Private Limited Company is a privately control business entity held by private stakeholders. The liability arrangement, during this case, is that of a restricted partnership, whereby the liability of a stockholder extends solely up to the quantity of shares control by them.
Micro Finance Company / Chit Fund Company Registration
A Micro Finance Company is an organization that makes loans to people and businesses. in contrast to a bank, a finance company doesn't receive money deposits from clients, nor will it give other services common to banks, like checking accounts.
Udyog Aadhar Registration
Udyog Aadhar / Udyam Registration is basically a government registration method that provides a registration certificate for your company along with a unique number referred to as your Udyog Aadhar number. This initiative is particularly for SMEs. The goal of Udyog Aadhar is to provide businesses maximum access to government schemes.
Corporate Litigation OR Commercial Litigation is the sphere of business regulation that includes proceedings initiated by organizations against the other companies that they deal with. The plaintiffs and defendants in corporate litigation include enterprises, partnerships, global corporations, Fraud Practices, Employee Disputes,Contract Violation and any other entities that work with them or profit from their dealings with them.
Contract lawyers are well versed with corporate law contract management rules, regulations and proceedings for structuring a professional contract which makes both parties in safe side. Generally, the contract lawyer involves in drafting corporate business contracts, vendor contracts, third party contracts, time and materials contract, sales agreements, leases, and employment contracts and so on.
We are one of the most trusted Law firms in delivering the right expertise in Corporate Law and Corporate Matters in Bangalore and Hyderabad.
Can't find what you're looking for?
Do Submit Your Details and We Shall Get Back To You
What Does A Corporate Lawyer Do?
A corporate lawyer advises firms on how to comply with rules and laws in business concerns. The Corporate lawyer help in transactional, regulatory and managing business documents, review contracts, and help in taking other strategy decisions. Consult and feel like Corporate Lawyers near me.
What Are The Types Of Company Registration In India?
Types of Company Registration In India:• Private Limited Company • Public Limited Company • Partnerships • Limited Liability Partnership • One Person Company • Sole Proprietorship • Section 8 Company
What Is A Business Agreement Called?
"For proper functioning of any company, there are several agreements are to be made between the parties. The most important agreements for general business are: Owner agreement and Worker agreement, Supplier and Customer agreement and Non-Disclosure agreement.
What is Corporate Advisory Service?
Corporate Advisory Services is a broad number of functions that encompasses specialized advices rendered to corporate houses by professional advisers such as accountants, investment banks, law practitioners and host of similar service providers.
What is LLP Registration?
LLP Registration is a standard Process where 2 LLP Partners make a LLP Incorporation Entity with the limited liability and open a current bank account on the LLP Name and operate the business concern. Here partners need to pay the Government Fee and Professional Fee for the same.
How Do I Get My Start-Up Registration Certificate?
Steps Involved To Acquire Start-Up Registration Certificate.Step 1: Incorporate your business · Step 2: Register under Startup India · Step 3: Get DPIIT Recognition. · Step 4: Provide information's Regarding Tax exemption Step 5: Self-certification of the following conditions. Step 6: Get your recognition number. Consult for Start-Up Registration Certificate and feel like Corporate Lawyers near me.
If You Are Planning Of Starting A New Business, Start-Up Company Or Want To Register A Company Like One Person Company Registration, Sole Proprietorship Registration, Partnership Company Registration, Limited Liability Company Registration, Private Limited Company Registration, Finance Company Registration, MSME Registration, Udyog Aadhar Registration, It Is Better To Take Consultation With Corporate Lawyer OR An Corporate Advocate For Further Procedure, Because There Are Several Rules And Regulations Are There For Business And They Are Differ For Each Type Of The Business Or Company You Are Going To Choose Or Register. When You Register A Company, You Should Also Know How To Draft The Business Agreements Or Business Contracts To Secure You Business Function. So, It Is Better To Consult Our Corporate Lawyers In Bangalore OR Corporate Lawyers In Hyderabad, It's Very Helpful To Understand In And Outs, Procedure, Legal Burdens, Conflicts And Other Aspects Of Corporate Matters.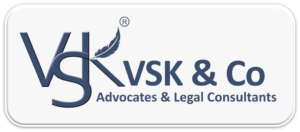 VSK & Co has been providing legal services since 2009. We are here with the aim to exceed our clients' expectation in everything we serve.
Copyright Ⓒ 2022 - All Rights Are Reserved By VSK & Co ADVOCATES & LEGAL CONSULTANTS