VSK & Co AND LEGAL CONSULTANTS referred to as ("us", "we", or "VSK & Co.", which also includes its affiliates) is the proprietor and publisher of the internet source https://vskandco.com/ ("Website").
We respect your privacy and we are committed in protecting your personal information. In general, you can visit our website without identifying yourself or providing personal information. There are times when we may need personal information from you. And this Privacy policy describes the information we collect from you and how we may use it.
If you avail any of the services on the Website or the App provided by VSK & Co. and give us your information. You hereby are deemed to have read, agreed and understood to the policies which are set in this privacy policy and are bound by this privacy policy. VSK & Co. has the right to change, modify, add or delete portions of any content on this privacy policy.
If you are representing any person, you are deemed to accept this privacy policy for such individual and give consent on behalf of such other. Thereby giving VSK & Co. the right to use, collect, and contact you back.
This Privacy Policy states the following:
The type of information collected from the Users is Personal Information (as defined in paragraph 2 below).
The purpose, means and modes of collection, usage, processing, retention for contacting you back through VSK & Co.
INFORMATION COLLECTED.
Information is collected by the means of "Contact Us "form during the user using our web portal. The information is collected for user call purpose through VSK & Co. to cross verify the users concerns regarding the booking.

The information which is collected by us is personal information. Personal Information under the SPI rules means any information that may be used to identify an individual. This includes but is not limited to: first and last name, email address, mailing and residential address, telephone number, title, birth date, gender, occupation, company you work for and other information needed to provide a service you have requested

If any information is made available to the public and is easily accessible by them then such information is not regarded as personal information under the Rights to Information Act, 2005.
       2. USE OF INFORMATION.
The personal information given by you or for the person whom you are representing, any such information collected will be used solely for the purpose of VSK & Co. for contacting you back.
User personal details like name, phone, address, age will be collected through "Contact Us" in the Web Portal for the purpose of providing services by VSK & Co.
The user hereby accepts through this Privacy policy that VSK & Co. is given the right to use any content provided by you for communication purpose so as to improve the booking appointments and for providing to the User any legal service. You hereby agree that VSK & Co. can contact you by the details provided. 
HOW WE PROTECT THE DATA OR INFORMATION COLLECTED.
We implement a variety of security measures to maintain the safety of your personal information when you register with us. VSK & Co. takes all requisite measures to ensure that the information disclosed by you is fully encrypted and is not accessible by an outsider.
ACCEPTANCE TO THIS PRIVACY POLICY.
By accessing our Website or App you agree to the terms and conditions, and the privacy policy therein. You hereby agree that you are the user of this website and give VSK & Co. the right to access, use, collect, process and store the personal information which is listed by you whether either if it is for yourself or the person who you are presenting for the purpose of providing you with any legal service.
If you have any questions about the Privacy Statement or would like to access or modify your identifiable information, please Contact Us – contactus@vskandco.com.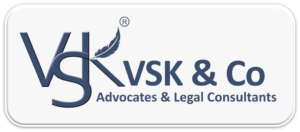 VSK & Co has been providing legal services since 2009. We are here with the aim to exceed our clients' expectation in everything we serve.
Copyright Ⓒ 2022 - All Rights Are Reserved By VSK & Co ADVOCATES & LEGAL CONSULTANTS