The domain name https://vskandco.com/ (hereinafter referred to as "Website") is owned by VSK & CO ADVOCATES AND LEGAL CONSULTANTS, a Company incorporated under the Company Act, 2013 with its registered office at #5C – 316, JBJ Complex, 2nd Floor, Opp. Indian Oil Petrol Bunk, Above Airtel Store, East Of NGEF Layout, Ramamurthy Nagar Main Road, Bangalore – 560016.
For the purpose of these terms of use, wherever the context so requires "you", "yourself", "client" or "user" or similar terminology are all in use in reference to the individual user of this Website. The terms "we", "us", "our", "ours"  "VSK & CO" shall refer to VSK & CO ADVOCATES AND LEGAL CONSULTANTS.
By accessing any content on the Website, the user acknowledges that the information provided:
Does not amount to advertising or solicitation.
Is only meant for the user's understanding about VSK & CO.
We provide legal services to users visiting our website and by accepting this terms and conditions you hereby agree to comply with the policies, terms, conditions applicable to the legal services provided.
By using this Website or App, you hereby agree with all the terms and conditions set forth in this agreement, is binding on you. It is your responsibility to read these terms carefully before you access the Website.
ACCESSING, BROWSING OR OTHERWISE USING THIS WEBSITE INDICATES YOUR AGREEMENT TO THESE TERMS, SO YOU ARE ADVISED TO READ THIS AGREEMENT CAREFULLY BEFORE PROCEEDING.
1. CHANGE OF THESE TERMS.
VSK & CO reserves the unilateral rights to revise these terms from time to time and at any time without providing any intimation to you and in our sole discretion. We will post the new version of these Terms or any policies on this Website and any change or modification to these Terms shall be effective immediately from the date of such upload of the revised Terms on the Website or App. Your continued use of the Website or the App following the modifications to the Terms and policies constitutes your acceptance of the modified terms and conditions whether or not you have read them and shall be binding on you. For this reason, you are advised to frequently review these Terms.
2. CHANGES TO WEBSITE.
In order to optimize and improve your experience, we may update the Website from time to time, and may change the content, display or form at any time without prior notice. We do not guarantee that the Website, or any content provided or displayed on it, will be free from errors or omissions. Further, we are under no obligation to update the Website or the App and any of the content provided on it.
3. TERMS OF SERVICES
Prohibited Uses. You shall not use the Website for any illegal, unlawful, unauthorized or prohibited purposes ("Prohibited Uses") nor may you, in the use of the Website, violate any laws in your jurisdiction (including but not limited to copyright or trademark laws). You will comply with all applicable laws, rules and regulations in your use of the Website. In the event you use Website for any Prohibited Uses, we reserve the right to immediately and without notice to ban you from accessing Website.
4. INTELLECTUAL PROPERTY RIGHTS.
All material and content on the Website, including images, illustrations, text, graphics, logos, button icons, images, audio clips, digital downloads, data compilations and software, is our property and  is protected by Indian law, including copyright, trademarks, and other intellectual property rights that are owned and controlled by us or by other parties that have licensed their material to us. The compilation of all content on Website is our exclusive property, and is protected by laws of India. You hereby agree to not copy, reproduce, republish, upload, post, transmit or distribute such material in any way, including by e-mail or other electronic means whether directly or indirectly and you must not assist any other person to do so. Without the prior written consent of the owner, modification of the materials, use of the materials on any other web site or use of the materials for any purpose other than personal, non-commercial use is a violation of the copyrights, trademarks and other proprietary rights, and is prohibited.
5. GOVERNING LAW AND JURISDICTION.
These Terms are governed by and construed in accordance with the laws of India. You agree, as we do, to submit to the exclusive jurisdiction of courts in Bangalore, India.
6. CONTACT INFORMATION.
If a User has any questions concerning the Company, the Website or App, this Agreement, the Services or anything related to any of the foregoing, please write to us at reach us at support contactus@vskandco.com.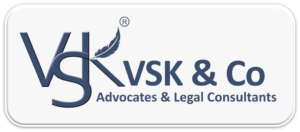 VSK & Co has been providing legal services since 2009. We are here with the aim to exceed our clients' expectation in everything we serve.
Copyright Ⓒ 2022 - All Rights Are Reserved By VSK & Co ADVOCATES & LEGAL CONSULTANTS